Updates: We are also excited to now have three available formats–one for self-printing, one to download for an e-reader, and one you can purchase at cost through Lulu that is professionally bound. We have also made a small change that was brought to our attention (thanks!), and the updated files are available below.
We are very excited to announce that the first edition of Words of Wisdom is now available! We have been working really hard to get it done so it can be used as Mother's Day presents for the women in your lives.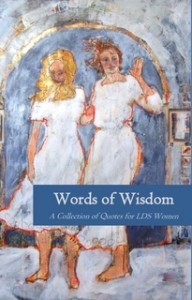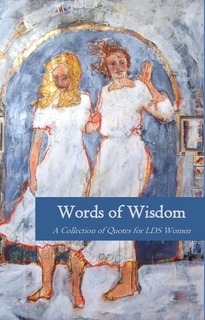 From the Introduction:
Throughout Relief Society's history we have had remarkable women leading and teaching us. Recently, General Relief Society President Julie Beck encouraged us to learn more about our history and get to know the words of women who came before us. To this end, we started searching for the voices of women, about women, and for women. Unfortunately, it can be hard to find their voices in Church curriculum and manuals, which inspired us to compile quotes on a variety of gospel subjects. By making these quotes accessible in this booklet, we can better follow our leaders and learn from our history.
In this booklet, you will find quotes that speak to our hearts the good news of the gospel. They uplift and encourage us on our sometimes difficult paths. We hope you will find the Spirit here as we have. This quote book is intended for private use. It can also be used to prepare talks, lessons and Family Home Evenings or in personal study.
We'd like to thank Galen Dara Smith for her beautiful cover art, "Sisters." We feel it embodies the love and sisterhood that we share in the Relief Society and that you will find in the pages of this booklet. (You can order prints from her Etsy store). We also thank the volunteers who responded to our Call to Action and contributed many of these quotes. Please continue to submit quotes for further editions to wordsofwisdom@ldswave.org.
Sincerely,
Editor-in-Chief
Susan Christiansen
Assistant Editors
Jenne d.N.E. Alderks          Emily Clyde Curtis
Tresa Edmunds                   Deborah Farmer Kris
Chelsea Shields Strayer    Jessica Steed
Format Option One: Self-Printing:
The inside of the book is formatted as booklet, which means that the page order in the PDF looks a bit odd. However, if you print on both sides, the pages will magically be in the right order to either fold in half and staple to the cover or cut in the middle and spiral bind to the cover. You may need to flip on the long or the short side depending on your printer, so it might be helpful to test out a couple of pages before printing the entire document.
Since some home printers are not able to print in the bottom half inch of the page, we have two different PDF formats–one for those printing from a standard home printer and one for those printing from a more professional printer.
Words of Wisdom–Professional Printer UPDATED
Words of Wisdom–Home Printer UPDATED
There are three cover options: one for those using a home printer, one for those using a professional printer, and one with a white instead of blue back page for those who do not want to use as much ink but who are using a professional printer. We recommend you print the cover on slightly heavier paper if possible.
Words of Wisdom Cover–Home Printer
Words of Wisdom Cover–Professional Printer
Words of Wisdom Cover–Professional Printer, Ink Friendly
Format Option Two: E-Reader
Download and enjoy!
Words of Wisdom–E-Reader Format
Format Option Three: Order a Professionally Printed Copy at Lulu.com
We are very excited to offer a paperback, professionally bound copy at cost (plus shipping) from Lulu.com. I got the first shipment yesterday and I am still blown away by the quality–especially for the price, which is $3.76. There is a minimum shipping charge of $3.99, after which shipping costs are calculated by weight. This seems to be an especially fantastic price, since the quotes we got from the bigger office and printing stores were between $11 and $12 for a spiral bound copy (as opposed to a paperback "perfect bound" copy) and the print quality is much better at Lulu.
Again, we are making these copies available at cost for purchase directly from Lulu. We are not profiting at all from the purchase of these copies. We only want to make them available through Lulu because the costs (both monetary and time) seem to be much lower and the quality is much higher. These are not intended for commercial use or to be sold or resold for a profit.
These copies can be purchased here. Lulu also has some additional discounts and specials posted here periodically, which may help to save more money.
Here are some pictures: